We commit to providing safe and supportive environments which nurture the wellbeing of all students and staff in our community, and hold firmly to the belief that they have a right to be safe, respected and valued in an inclusive environment. We know that when students are happy, they are more engaged with their learning.
Schools benefit from wellbeing initiatives and pastoral care support through Sydney Catholic Schools – in areas such as anti-bullying, positive behaviour, student counselling, refugee support and child protection – which range from universal support for all students, to targeted interventions for students with complex social and emotional needs.
At St Pius' Catholic Primary School Enmore, we promote a happy, supportive and safe environment where 'every face has a place'. We recognise that student welfare is an ongoing shared responsibility between home, school and the community. We promote wellbeing through:
BE YOU (Kidsmatter) – provides a framework to foster and develop an inclusive and supportive learning environment. This develops a positive approach and understanding across the whole school community to the issues pertaining to mental health.
Cool Kids – a program which teaches students to manage anxiety and build confidence.
Friendology – a program that promotes the social and emotional wellbeing of students through friendship skills.
Calm Corners – quiet, supportive and therapeutic areas of the classroom which assists students in their self-regulation by offering them an environment of relaxation. It is a designated place designed to calm the senses where the student can experience soothing visual, auditory, and tactile stimuli.
Passive Play – activities on the playground provide all students with the opportunity to draw, construct, or play games in a quiet setting, uninterrupted by others participating in active play. 
Seasons for Growth – a program designed for children (aged 6-18 years) to strengthen their social and emotional wellbeing who have experienced significant change or loss in their lives.
School Counsellor – assists students from Kindergarten to Year 6. Our school counsellor acts as an advocate for students' wellbeing, and as valuable resources for their educational advancement. They work with students and parents to address any concerns regarding academic, emotional or social problems. Telephone (02) 9557 4027.
Community Services linked with Sydney Children's Hospital –  A community nurse liaises with the school as need arises to support the wellbeing of our students.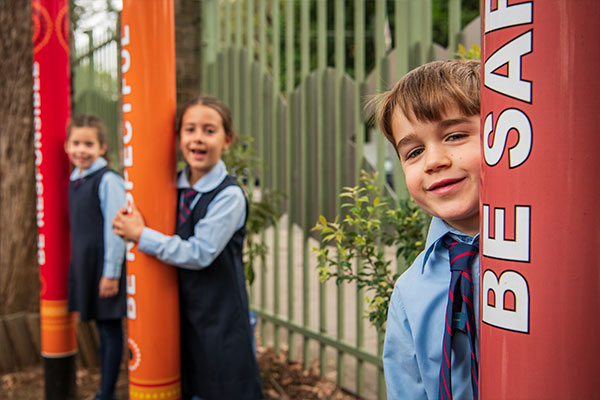 Sydney Catholic Schools rejects all forms of bullying behaviours, including online (or cyber) bullying, by maintaining a commitment to providing safe, inclusive and respectful learning communities that promote student wellbeing for learning. Staff at Sydney Catholic Schools are committed to employing wellbeing strategies that allow for a healthy school environment where bullying is less likely to occur.
If your child is experiencing bullying of any kind, or you have a wellbeing concern, we have a number of support services available for parents/carers and students, as listed below.
Support services:
Student Wellbeing Hub – Department of Education
Anti Bullying – Department of Education
Family and Community Services Helpline: 133 627
NSW Health: (02) 9391 9000
NSW School Liaison Officers: Senior Constables Casey Mitchell and Blake Langford. Telephone (02) 9550 8199