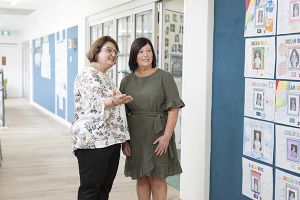 We warmly welcome all families into our St Pius' school community.
St Pius' Catholic Primary School Enmore offers an affordable quality education, providing a challenging and differentiated curriculum delivered by passionate educators.
With a faith that nurtures resilience and respect for others, our students educational journey is one of critical and creative thinking in a secure environment that pursues Christ through learning.
If you wish for your child to experience an exciting holistic education within the classroom and through many co-curricular opportunities St Pius' have to offer, come and see for yourself by booking a school tour as soon as possible or by contacting us now.
Book a school tour:
Please book in for a school tour guided by our student leaders followed by morning tea with the leadership team. An enrolment package will be provided on this day. School tours are also available upon request throughout the year.
Enrolments are welcome at any time of the year.
Please contact our school office on  (02) 9557 4027 or email info@stpenmore.catholic.edu.au for more information or to book a school tour.