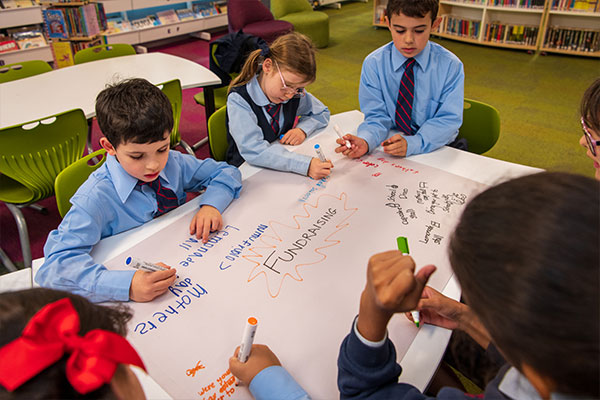 At St Pius' Catholic Primary School Enmore student leadership involves opportunities which encourage students to:
take on responsibility with integrity and honesty

be active, reflective listeners who respond effectively

model Christ-like behaviour living out our school motto

co-operate and work together in a spirit of collaboration.
Student leadership 
Student life at St Pius' Catholic Primary School Enmore gives students the opportunity not only to extend their learning, but also to develop their leadership skills. We value the input and opinion of all of our students and believe that they are important stakeholders in our community at St Pius'.
School Leadership Team – The school leadership team is comprised of two school captains and two vice captains, Sport captains and Sport vice captains. They are the voice for the students in our school, especially the younger students. They ensure that all other students in positions of leadership are doing their job properly. 
Student Representative Council – The role of the Student Representative Council (SRC) is to represent each class at St Pius', so that all students are heard. They will identify an area of need from the students in the school and be proactive in bringing about a solution. We are committed to taking on an initiative every term to make St Pius' a better place for us to learn and play. The SRC will also work closely with the leadership team communicating, co-operating and helping their fellow student leaders in any school events. 
Search leaders – Work with developing strategies and activities to enhance the social and emotional wellbeing of the student body.
Serve leaders – Work with initiatives that deal with service to our school and community.
Soar leaders – Lead the environmental aspects of the school in limiting the amount of waste in and around the school.
Mini Mercies – Work with the family educator in outreach initiatives.